If you're anything like me, you google reviews of most things before you buy them.
So if this helps anyone, here's what I've bought and my opinions on how good they are for birdwatching.
The initial prices might seem quite steep, but if you think of the years of use you're going to get from your optics, it's well worth it.
Binoculars 1 –
Opticron 8×42 Countryman BGA T PC WP
The best cheap water proof binoculars I could find.
I bought waterproof because one time looking at some sphagnum moss on a bog, I put my binoculars down on the ground and the water from the bog got into the binoculars and killed them.
Plus, given the amount of rainfall we get in Ireland - buying waterproof optics is kind of essential.
These binocs are excellent – images are sharp and the light is good.
Talking to Niall Hatch (Bird Watch Ireland) he said these were nearly as good as the top Zeiss and Swarovski models at a fraction of the price.
I think these cost about €250 (avereage cost of zeiss or swarovski..€1500)
Best advice for binoculars is to try and get 8 or 10 magnification with a 40 or 42mm lens.
Binoculars 2 - Opticron 10×25 Taiga
My 8x42's are good, but I take these 10x25's nearly everywhere- even if people do make fun of my smallest binoculars in the world.
They're just so light and small I put them in my pocket whenever I go off for a walk - and having bins can be the difference between seeing a cool bird or missing it.
They're also great for when I'm already carrying my big lens and telescope.
I've got a few pairs, they cost about €90.
Telescope
I've been borrowing Kendrew's old Kowa TSN1 77mm with a 30x fixed lens.
Well, I was borrowing it until the mount between the scope and the tripod snapped :o/
New scope Opticron GS 815 GA with 32x fixed eyepiece (HDF T40809) (Oct 2010).
DO NOT BUY THIS SCOPE!

(as of Nov 2011, its been discontinued anyway)
The Opticron GS815 is a great scope in every single way apart from it's one flaw, and it's a biggie....
which I wish I had realised before I forked out the dosh.
The focus wheel has to be turned a million times to change focal distance.
The old Kowa I used was great, so are some of the Swarskovski I look through, a tiny turn of the focus wheel and you've got your bird in focus in an instant.
With this particular Opticron scope you're turning and turning and turning the focus wheel and it feels like an eternity to get the bird is in focus.
Not a good thing.
Such a shame because the scope is as light as a feather and the sharpness and light of image is superb - really, really good, it's just a shame night has fallen by the time you get your bird in view.
Tripod - Velbon c-500
A cheapie video tripod, serves me well - handle on the right side. Light as a feather and easy to carry around, especially with the hi-tech silver foam pipe lagging (€8 from homebase) I've taped around the legs to stop the metal legs digging a groove into my shoulder bone.
Camera - Nikon D40 (June 2008)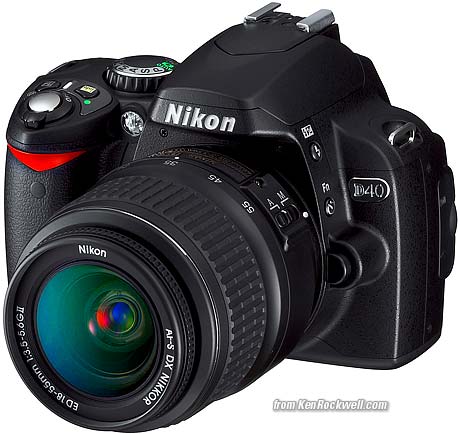 It's Nikon's most basic and cheapest DSLR and I've managed some lovely shots with it. Even if I say so myself.
Discontinued now, I bought it in 2008 for approx €300 and used it constantly. Extremely light and easy to carry around. Bought from Bass and Bligh, Harrogate, North Yorkshire - great shop for optics.
Extremely enthusiastic reviews of this D40 on Ken Rockwell's site.
with a
AFS Nikor 18-200mm lens (June 2008)
I bought this lens at the same time as the camera (2008), admitedly it cost nearly twice the price of the camera, but I've had so much use out of this lens that it has been worth it.
The lens is brilliant for everyday use, landscape photography and it does manage some amazingly sharp images.
I did think I'd be able to get really sharp, detailed close ups of small, birds but that was a bit naive - it's only a 200mm reach - I've since discovered you have a fixed 400/500mm lens for that close up sharpness.
So...
NEW LENS as of October 2010.
Sigma 150-500m - got a great deal from Conns, Clarendon St, Dublin. (Hugely reccommend Conns for reasons explained end of this section).
I wanted a cheapish and lightweight lens (so I could still take handheld photos) with a further reach than my 200mm lens.
Its not as crystal clear as a prime 400/500, but its a fraction of the price and will do me for the next few years hopefully.
Having a few 'Lens not connected' issues - nearly always at great shot moments, if it continues I'll take it back.
May 2011 update:
The 'Lens not connected' issue continued and eventually the lens stopped working altogether whilst I was getting some close shots of Sandwich Terns in DunLaoghaire.
I took the lens back to Conns and they gave me a brand new replacement lens to use whilst the other one was sent away for repair.
Now, Conns do have a reputation for being a bit pricier than other camera shops, but I don't know any other shop which gives you a brand new replacement lens (for free), until your lens is sent back from repair? That kind of service is maybe worth the extra buck or two in the long term.
Within 2 weeks the lens was back and repaired and has worked without hitch.
June 2011 update:
The lens stopped working again, luckily at the end of a birding day out in Bolton Abbey, Yorkshire.
Again, I took it back to Conns and they replaced it with a brand new lens - they said it was very unusual.
July 2011 - New Camera - Nikon D7000
I love it.
My little point and shoot for 'in the pocket' days
Canon Ixus 220 HS
(Europe), or a Canon Powershot Elph 300HS (in America) - same camera.
Great little camera, ultra lightweight and good little film maker! cheapish too.